Law and Slavery on the Silk Road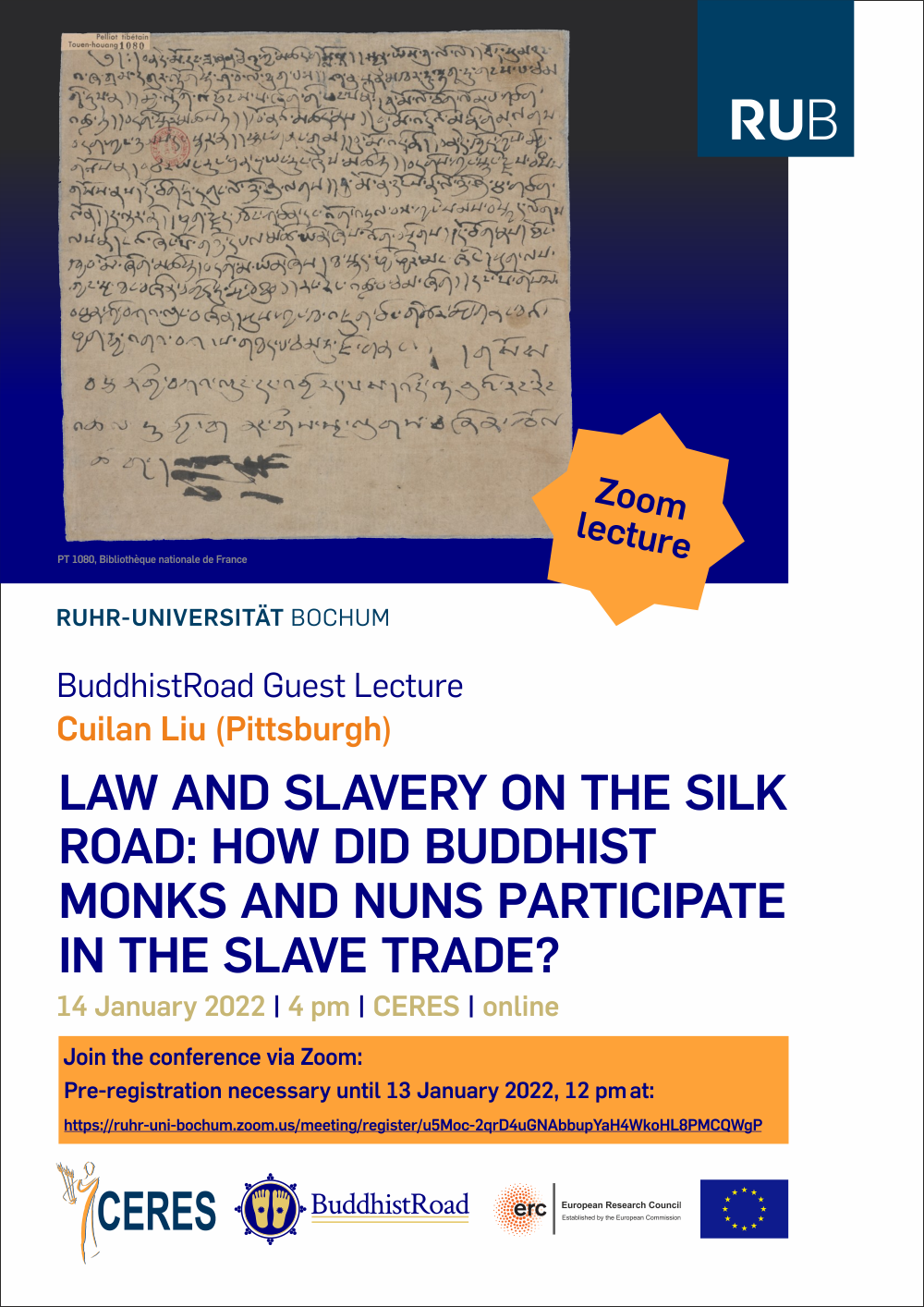 14 January 2022 - Cuilian Liu (Pittsburgh, PA)
Law and Slavery on the Silk Road: How did Buddhist Monks and Nuns participate in the Slave Trade?
online guest lecture at the BuddhistRoad project, CERES, Ruhr-Universität Bochum
The selling and buying of human beings as slaves were highly sensitive, controversial, and profitable on the trading networks along the Silk Road. Manuscripts excavated from Cave 17 in Dunhuang (敦煌) and tombs in the Astana graveyard in Turfan contain records documenting how Buddhist institutions and individual monks and nuns were involved in the slave trade as buyers, owners, sellers, and transaction witnesses.
Examining lawsuits, contracts, and deathbed testaments concerning slave ownership related to Buddhist monks and nuns, this article explores what roles the Buddhist clergy had played in the slave trade on the Silk Road, and the legal implications of such involvement. It shows that despite disapproval of slave ownership in Buddhist canon law and strict regulations on slave trade in laws of the Tang Dynasty (618–907, 唐), Buddhist monks and nuns showed little concern over these restrictions when participating in the trading of slaves in the local markets in Dunhuang and Turfan.
When ownership of their personal slaves was challenged, they were not reluctant in seeking legal intervention by initiating lawsuits in the lay court. In these practices, such Buddhist monks and nuns have received evident support from the secular legal system. The local government not only placed official seals on a Buddhist monk's market certificate of slave purchase filled with abusive terms, but also ruled in favor of a Buddhist nun to protect her rights as the adoptive mother but ignored her enslavement of a free commoner's daughter, a severe crime against the Tang law.
Cuilan Liu is a scholar of Buddhist studies. She is Assistant Professor of Religious Studies at the University of Pittsburgh. Her research focuses on the legal interaction between Buddhism and law. Her recent publications include: "Buddhism in Court: Clerical Privileges and the Jurisdiction of the Buddhist Clergy in Indian Buddhist Monastic Law.," History of Religions 60.2 (2020): 103–131 and; "The Fall of a Chinese Buddhist Monk: Law and State Governance in Post-Imperial China," Journal of Law and Religion 35.3 (2020): 432–449.
---