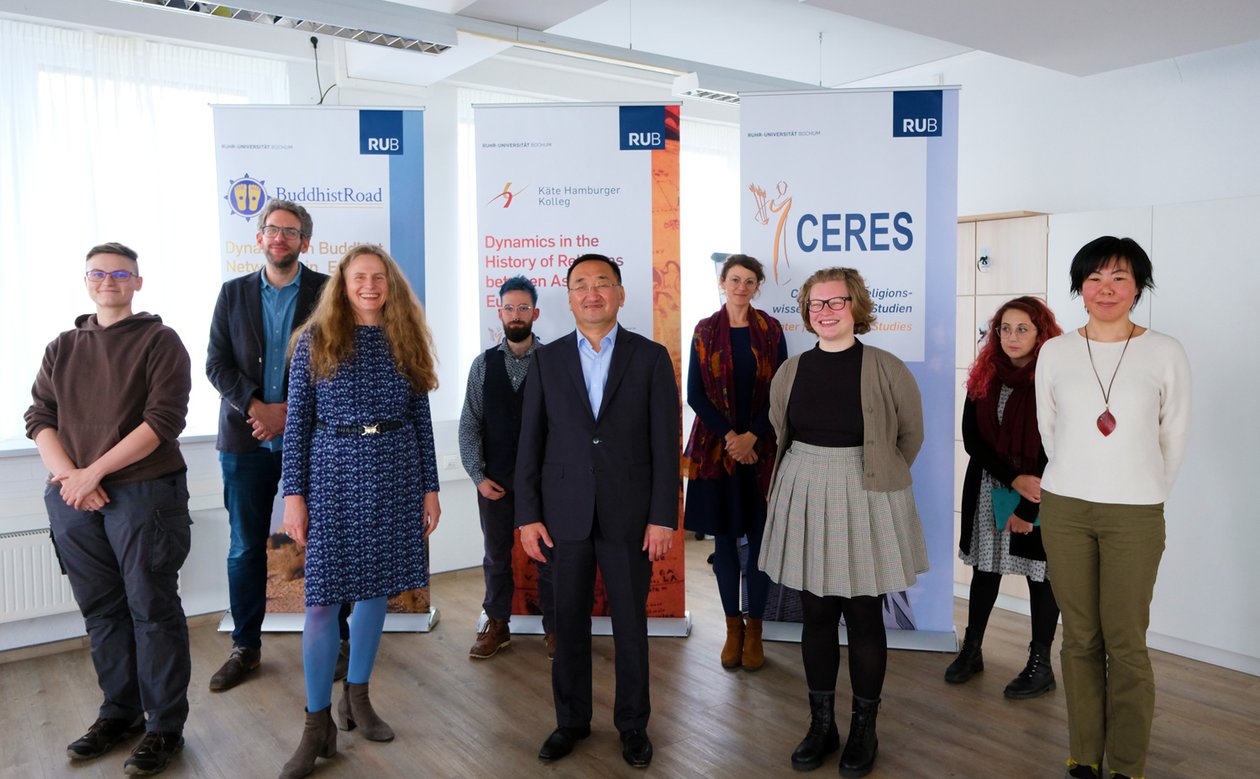 Focussing Buddhism: Mongolian Ambassador to the UN visits CERES
Yesterday, His Excellency the Permanent Representative of Mongolia to the United Nations in Geneva, Mr Lundeg Purevsuren, visited the Center for Religious Studies (CERES) at the Ruhr-Universität Bochum (RUB). The ambassador informed himself about the diverse teaching and research activities at CERES. During the meeting, the two international projects in the field of Buddhist Studies were of particular interest.
The BuddhistRoad research project was presented by Principal Investigator Prof Carmen Meinert to the Mongolian guest. The project is funded by the European Research Council (ERC) and deals with the transfer of Buddhism along the Silk Road system. It traces the complex dynamics of cultural exchange and religious transfer in pre-modern Eastern Central Asia and hereby sets a new research framework.
The second project introduced was the DiGA project. It was presented by Junior Prof Dr Jessie Pons together with Dr Serena Autiero. The aim of this project, which is funded by the German Federal Ministry of Education and Research is to digitize Buddhist artefacts from the Gandhara region and thus make them internationally accessible for research. Some of the oldest preserved Buddha images come from the so-called Gandhara civilization, which once was located in the area of present-day Pakistan.
H. E. the ambassador gave insights into the current situation of Buddhism and other religions as well as various types of religious education in Mongolia to the Bochum team. Due to the positive responses, it is planned to deepen the mutual exchange in future.